Sukkot Menu
---
Network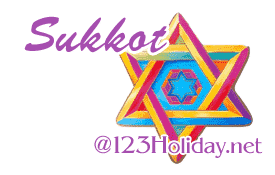 Sukkot Recipes
Kreplach
Kreplach are small squares of rolled pasta dough filled with ground beef or chicken and folded into triangles. They can be boiled and served in soup or fried and served as a side dish. They are traditionally served at the pre Yom Kippur meal, on the seventh day of Sukkot, Hoshanah Rabbah and on Purim.
DOUGH:
1 ¾ flour
2 eggs
½ tsp. Salt
3 Tbsp. Oil
FILLING
1 cup ground cooked beef or chicken
1 small onion, grated
1 tsp. salt
DOUGH: in a large bowl combine dough ingredients together. Knead and roll out thin on floured board. Cut into 3-inch squares or circles.

FILLING: in a small bowl mix filling ingredients well. See Kreplach illustrated for filling and folding. Kreplach can now be either boiled and served in soup or sauted in oil.

TO BOIL: Place in boiling salted water. Cook approximately 20 minutes until kreplach float to top.

TO SAUTE: Heat oil over medium flame in 10-inch skillet. Saute boiled kreplach until golden brown on both sides.

NOTE: Dough will roll out more easily after being wrapped in a damp cloth for one hour.

YIELDS: 18 Kreplach
---
Pomerantzen
Yield: 6 cups
6 oranges or 6 small graperuit, peels only
3 quarts water
1 tablespoon salt
4 cups sugar, approximately
Confectioner's sugar
Peel the fruit, removing as much of the white pith as possible. Slice peel into strips about 3- inches long and 1/2- inch wide. Let them curl up. Put peels in a large crock and add water and salt. Leave overnight.

Drain the peels and rinse thoroughly. Put in a saucepan of cold water and bring to a boil. Immediately after the water boils, drain the peels. Repeat this procedure 3 times. Weigh the peels.

Put an equal weight of sugar into a heavy-based pan (about 3 cups), then add half that amount of water (about 1-1/2 cups) and bring to a boil without stirring. As soon as the syrup boils, add the peels and reduce the heat to low. Cook without stirring until all the syrup has been absorbed. Remove the peels, separate with a fork, and drain on wire racks with waxed paper beneath to catch the drips. When peels are cool enough to handle, pour 1 cup sugar into a shallow bowl and roll the peels in it, adding more sugar if necessary.

Spread out the peels on racks and let dry, lightly covered with parchment or waxed paper, in a warm place for 2 days. Roll again, this time in confectioner's sugar, then store in airtight tins.

Makes 6 cups.

VARIATION: Try other thick-skinned citrus peels. Make an attractive curled shape by stringing the peels on a thread before soaking them in brine, parboiling, and dipping in syrup.

This candy is traditionally served during Sukkot.
---
BEEF STUFFED PUMPKIN
Yield: 8 servings
1 (5-6 pounds) pumpkin or (2-3 pounds) pumpkins
2 teaspoons salt, divided use
2 tablespoons vegetable oil
2 cloves garllic, minced
1 onion, chopped
1 pound ground beef
3 eggs
2 teaspoons crushed dried sage
1 1/2 teaspoon dried thyme
1/2 teaspoon freshly ground pepper
2 cups cooked rice, preferably a mixture of white & wild rice
2/3 cup raisins
1/2 cup pine nuts
1. Preheat oven to 350 degrees Fahrenheit. Cut top from pumpkin and remove seeds and strings. Prick cavity with fork and sprinkle with 1 teaspoon of the salt. Heat pot or large skillet.

2. Add oil to pot or skillet. When hot, add garlic and onion and saute until onion is transparent. Add beef and continue sauteeing until browned. Remove from heat and add remaining ingredients.

3. Stuff pumpkin with mixture. Place 1/2- inch water in bottom of a shallow baking pan large enough to hold the pumpkin.

4. Put pumpkin in the pan and bake 1 to 1- 1/2 hours. Cut pumpkin into wedges (or if small pumpkins used, into halves) and serve, giving each person both pumpkin and stuffing.



Search the web: